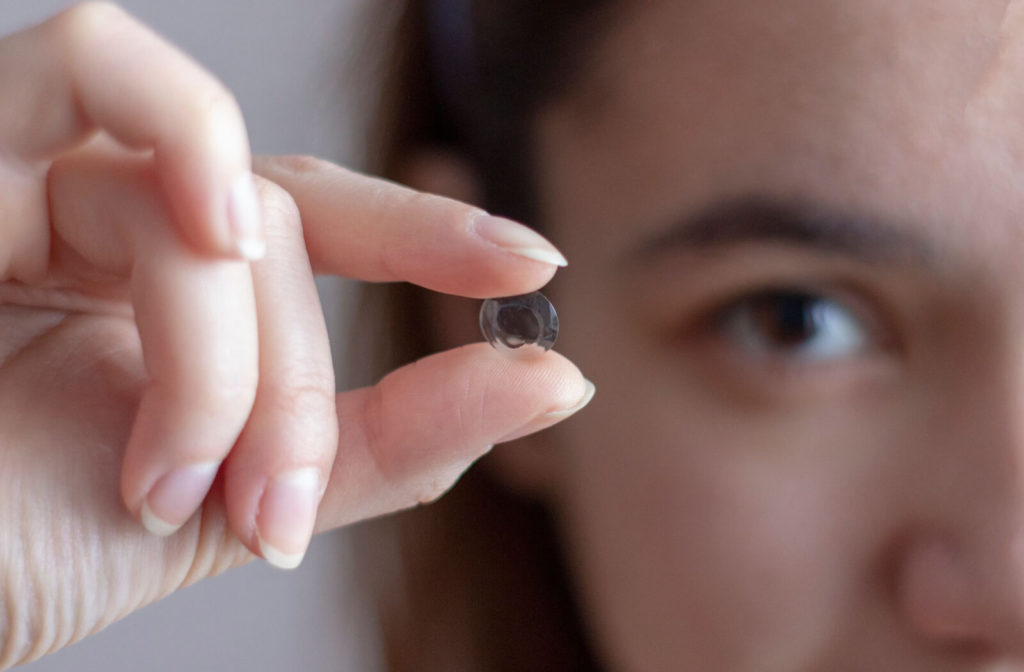 Ortho-k, also known as orthokeratology, is a common myopia control treatment that involves using specialty contact lenses to achieve temporary vision correction. When worn at night, ortho-k lenses can help slow myopia for children and improve vision for people of all ages without the need for additional vision correction during the day.
Myopia is one of several common refractive errors. Ortho-k lenses are one of the ways that an optometrist can potentially slow the condition's progression as a child ages. These specialty contact lenses may also be an option for correcting other refractive errors, especially for individuals seeking alternatives to laser eye surgery.
WHAT IS ORTHO-K?
Ortho-k refers to specialty semi-rigid gas-permeable lenses that you wear while you sleep as a noninvasive form of corneal refractive therapy that can gently reshape the cornea overnight. It is not a permanent change, so individuals using ortho-k lenses must continue wearing them as recommended by their eye doctor.
Once the desired correction is achieved, your optometrist may recommend a retainer lens or help you decrease the number of nights the lenses should be worn.
HOW CAN ORTHO-K IMPROVE YOUR EYESIGHT?
One significant benefit of ortho-k is how it can correct vision overnight and eliminate the need for other forms of vision support during the day, such as other contact lenses or eyeglasses. It works by gently moulding the shape of your cornea while you sleep, so light can focus correctly inside your eye during the day.
One factor that can determine how well ortho-k works for an individual is how often the lenses are worn. Typically, ortho-k lenses require nightly wear for the first several weeks to achieve the desired correction. Once your eyesight is improved, your doctor may recommend a slightly modified schedule with retainer lenses.
Refractive Error Correction
Nearsightedness (myopia) is one of the most common refractive errors optometrists can use ortho-k to correct. But even those with minor astigmatism or farsightedness may be candidates for orthokeratology.
Laser eye surgery could be an option for refractive error correction as well, but not everyone is a candidate for laser vision correction, such as children and those with unstable myopia. If a person cannot get laser eye surgery for any reason, ortho-k may provide similar results by gently reshaping the cornea without surgery.
Myopia Control
Myopia often develops during early childhood and can worsen until a person's early 20s. Some optometrists offer various myopia control methods to help prevent the condition from worsening. These can include specialty eyeglasses, specialty contact lenses, and medicated eye drops.
WHAT CAN YOU EXPECT FROM ORTHO-K?
Not all optometrists can offer ortho-k because they require specific training on fitting. Before your optometrist can determine whether you or your child are a candidate for ortho-k lenses, they will typically perform an eye exam, similar to a contact lens fitting.
During this process, your optometrist can take extensive measurements of your eye's surface to determine whether your cornea is within an acceptable range for correction. They may also examine your tear quality and quantity and your corneal rigidity, which can all affect the results and timeframe needed for ortho-k to be effective.
It's important to remember that ortho-k is not necessarily a permanent solution. You may have to continue wearing retainer lenses after achieving the desired level of vision correction.
WHAT ARE THE RISKS & BENEFITS OF ORTHO-K?
Your optometrist can be a great person to discuss risks versus benefits with because they can take your overall eye health and personal situation into account.
Potential complications you may read about include hypoxia, corneal abrasion, and infection. It's worth noting there is sufficient evidence that shows ortho-k doesn't increase the risks of developing these conditions any more than regular contact lenses, so ortho-k can be considered a safe form of treatment for refractive errors and myopia control.  Given the advancements in modern diagnostic technologies and materials, success outcomes with orthokeratology in myopia correction and control are highly achievable.
It's also important to know that using ortho-k lenses requires diligent hygiene and care to prevent infection, just as regular contact lenses do.
DISCUSS YOUR VISION CORRECTION OPTIONS WITH US
Each person's vision needs are as unique as they are, and one great solution for someone may not be the best for another person. The first step in any form of eyesight improvement is to sit down with your optometrist.
An eye exam can be a great time to discuss correction options with our team. Whether you're looking at myopia control for your child or a surgery-free way to avoid your eyeglasses, we can help you review your options.
Request an appointment today. Our professional staff can answer your questions and help you find the right options for achieving clear vision.
Credits to the original blog post and link: https://foresee-eyecare.com/does-ortho-k-improve-eyesight/ and Dr. Miranda Mok